The Aglionby Platt
In the British Library collection is preserved a map dated, on the reverse, Dec 1590 and entitled 'A platt of the opposete borders of Scotland to the west marches of England'. This had been kept in an atlas of Saxton's county maps that had belonged to William Cecil Lord Burghley, Elizabeth I's Secretary of State. This was made by, or by an attendant of, Edward Aglionby, a prominent member of the Cumberland gentry (see below). A note on the map states;
"The moste of these places on the Scotish syde are tower and stone houses, with some fewe plenashed Townes, as Dunfreis, Annand, Loughmaben, and such like; for the rest not put downe, they ar but onsetts or stragling houses, th' inhabitants followers of some of these above described. For those on the English Coaste, they are referred to the Tract lately sent to your L. of the Description of them in particular."
The map was reproduced and published in Archaeologia in 1829 by H. Ellis (see below) and on numerous subsequent occasions with more or less intelligent discussion. The purpose of this web page and the associated listing of the sites is to challenge the apparent often made assumption that all these sites were 'towers' and to attempt to identify all the sites.
Generally it shows the houses of the major Border Reivers of the Scottish West March. Although the descriptive note makes clear that these houses were of different forms they are all shown with the same symbol (a circle with central dot, surmounted by a square with central dot (occasionally omitted) surmounted by a small triangle (occasionally omitted)), a total of 147 such places are shown. Six places; the city and castle of Carlisle, the town and tower of Dumfries, the town and large tower of Annan, the castle of Lochmaben, the castle of Rockcliffe and the castle of Bewcastle are shown with larger, more complex, symbols. The places shown are generally named with a place-name but a good number are identified by the name of the house resident (i.e Ro: forsters). The bridges over the Eden at Carlisle, the Wampool at Woodside and the Waver near Abbeytown are shown. A scale in miles is given. The Solway Firth is enlivened with a sketch of a vessel with a full single square sail.
The map is labelled in a legible 16th century hand with a few abbreviations the most common being the the letter thorn (in a very y shaped form rather than as þ) surmounted by an e for 'the'. The map has clearly been drawn by someone with knowledge of the area and with a reasonable degree of cartographic skill for the period, although it is not without error and some places may be placed on the wrong side of a river and the spacing between sites may represent riding distances rather than direct 'crow flies' distances. It is certainly a map that needs to be read with care and thought by modern people used to the accurate mapping of the Ordnance Survey.
Four additions are made in a much cruder less legible hand, presumably that of William Cecil. These were transcribed by Armstrong, on his reproduction of the map (a copy of which is used to illustrate this website), as Johnstone, Kyrkandor, Brakenhill and Rosetree. The first appears to be added below 'ye Loughwoode', high up the River Annan, and probably shows this was a Johnstone house rather than marking another house. The other three are all houses on the River Esk, in England, and probably represent houses personally known to Cecil or his attendant clerks.
Although Aglionby makes it clear he was recording towers and 'stone houses' many writers and the archaeological databases have come to assume that all the places marked with the simple symbol were towers. Most sites are entirely lost (of 153 buildings marked only 25 have significant remains and 12 have some slight remains making accurate identification of form difficult), a few were demolished in more recent times and are reasonably well described but generally there is no evidence for the form of well over a hundred of these buildings. Working from analogue, across the whole of the marches, trying to discover the social status of the likely inhabitant and looking at the surrounding landscape to try to estimate the amount of income and the form of building that could be supported by such income I suggest the below table of numbers. If anything I think it is likely I've overestimated the size of lost buildings so probably twice as many pelehouses as towers. However, using this method would probably suggest the massive Hermitage Castle was a modest house if there were no remains.
Form of building
see 'Taxonomic Confusion' below for full discussion of forms
total number
number with remains
Masonry Castle
a large complex building with a curtain wall and several residential towers
-
6
-
6
Tower House (baronial)
a large freestanding residential tower of of baronial status - 4 or more storeys*
-
10-11
-
3
Tower House (gentry)
a freestanding residential tower of of gentry status - 3 or more storeys*
-
36-57
-
16-19
Chamber Tower (Pele Tower)
a residential tower of of gentry status, attached to a hall - 3 or more storeys*
-
2-6
-
1
Pele-House (bastle)
a rectangular building of a chamber over a cow byre usually a tenanted residence*
-
62-95
-
6-10
Pele
a modest square or rectangular building of unmortared masonry otherwise similar to a pele-house*
-
0-11
-
0-1
Other
towns, churches and other such
-
6
-
2

*Rooms in the roof space are not considered as a storey
As can be seen there is a distinct tendency for highly status and larger buildings to survive. Pele-houses and peles, which were generally built on boulder plinths without dug foundations, were smaller and certainly easier to demolish than larger towers. In many cases I consider these buildings were removed and replaced by more modern farmhouses built on the same site, or possible on a closely adjacent site. The higher areas of the marches have had considerable depopulation so there are less farm sites now than in 1590. Some modest pele-houses and peles may now be represented by sheep stells (sheepfolds) and careful examination of such stells may show some evidence of an earlier existence as a dwelling (something which may have been overlooked by field archaeologists misinformed into considering all the houses on the platt to be tower houses).
A written account of the families of the area, written by Thomas Musgrave for Lord Burghley in 1583, is transcribed, as an appendix, below.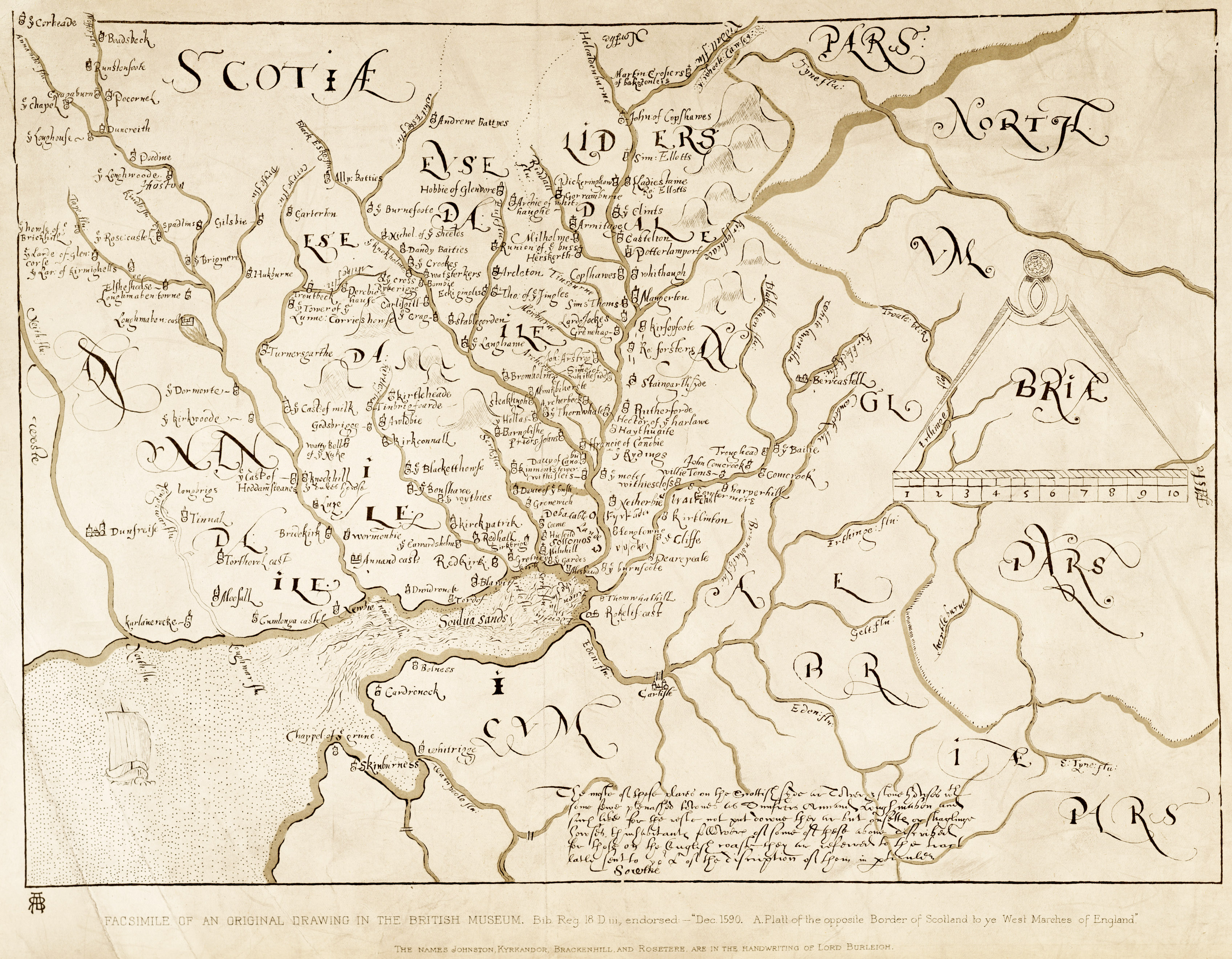 Key To MapBox map

Star - castle
Circle - large tower house
Square - small tower house
Drop - chamber tower
Triangle - pele house
Cross - other

Dark green

is used for sites where the location is certain.

Light green

is used where the location is probably at or very close to the given map reference.

Orange

is used for sites with a considerable degree of uncertainty.

Red

for suggested house sites which are rejected as such.
Taxonomic Confusion
Tower Houses, Pele Towers, Pele Houses, Peles, Bastle Houses and Bastles
These terms, the generic term tower and the related terms (i.e. Bastle House) and alternative spellings (Peel; Bastel) are variously used by different authors to mean several different forms of building, quite often using the same term for different building and different terms for the same building, thrown in to this mess are the terms Strong House, Stone House and Fortified House which are generally used with less clear definitions to cover more vague monuments.
A good number of authors dislike the use of the term pele to refer to the smaller towers. In some cases the term originated as a reference to timber defences, probably specifically a timber palisade and was used with this sense in contemporary 13th century documents but it was, at least occasionally, in use for stone buildings of some form by the 16th century. The small and dated book of 1894 Peel: its meaning and derivation by George Neilson gives some contemporary examples. However, it should also be noted that the Celtic word pil can mean a fortified place and this does get spelt in various ways including peel. The antiquarian John Leland used the term pile, in the sense of heap of stones, quite often when referring to buildings, including tower houses. The general term pele is one that was widely used by common people to mean a fortified building of many forms and, for these people, the origin, whether Latin, Celtic or some confabulation, was not important (see the discussion in the RCAHMS Inventory for Roxburghshire transcribed below showing how the term was also used for strongly built timber and earth buildings). There are a good number of examples of 'learned men' making assumptions that local people were using the term to refer to some form of tower house when, in fact, they were using it for more modest stone buildings.
The Historic England monument type thesaurus classifications for fortified houses are;
Fortified House - A house which bears signs of fortification. These often include crenellated battlements and narrow slit-like windows.
Tower House - A multi-storey, fortified hall house with one of the crosswings being raised in the form of a crenellated tower. Permanently occupied, they date from the mid 14th to the 17th century and are found mainly in the border counties of the North of England.
Pele Tower - A strong, fortified dwelling, of between two and four storeys. Occupied only in times of trouble built mainly in the border country of the North from the mid 14th to the 17th century.
Fortified Manor Houses - A manor house, which was granted a royal licence to crenellate.
Bastel House, Bastle House - A fortified house of two or three storeys, the lower floor being used to house animals and the upper for domestic use.
In Scotland the RCAHMS classification are;
Fortified House - A house which bears signs of fortification. These often include crenellated battlements and narrow slit-like windows.
Tower House - A permanently occupied, fortified residence, built from the mid-14th to the 17th century. Tower-houses are rectilinear in plan, often with one or more additional wings, and provide accommodation on several storeys.
Pele House - An uncrenellated, strong, fortified dwelling, of between two and four storeys, built mainly from the mid 14th to the 17th century.
Fortified Manor Houses - A manor house, which was granted a royal licence to crenellate.
Bastle - A fortified house of two or three storeys, the lower floor being used for storage and/or to house animals and the upper floors for domestic use.
These sets of classifications certainly has a number of problems. There is nothing to actually suggest most of the buildings generally called pele towers were only occupied in 'times of trouble' and some other axioms are questionable but the major issue may be the confabulation of the terms 'Pele-Tower' and 'Pele-House' terms which have had significantly different meanings to some important authors. The Monuments Protection Programme merely lumped all terms under Tower House.
The adoption of these problematic taxonomies is certainly not universal amongst modern writers, certainly not by those who are historians and earlier writers had many, usually idiosyncratic, terminologies of their own. Generally modern, academic, writers use the term 'tower house' as a general term for all buildings of three or more storeys using the description to differentiate between buildings of different types. The one term which seems to have had a widespread uptake is the use of bastle for the rectangular chamber over byre buildings of 16th-17th date. Of this usage Philip Dixon, in an article of 1979 writes, with considerable authority:
Among the surviving sixteenth-century structures two broad divisions are apparent: those in the first group are tall buildings, normally with battlements and all perhaps originally surrounded by courtyards containing domestic offices. Their builders called them 'towers' or 'hall-houses' or, occasionally, 'peles' or 'peels', and they are now normally called 'towerhouses'. Those in the second group may themselves divided into two categories: in the first place are large rectangular houses, sometimes with projecting staircase turrets and seldom with crenelations. Contemporaries called these 'bastles' or 'bastle-houses', or sometimes 'towers'. Secondly there are small roughly built barn-like houses with thick drystone walls. These were called several different names: 'bastles', 'stronghouses', 'stonehouse' or 'pelehouses' or more recently 'peles', and many in the sixteenth-century clearly regarded these names as interchangeable. Strict adherence to sixteenth-century usage is thus undesirable, but a recent account has taken the name 'bastle' to refer solely to to the smallest of the fortified houses (
Ramm et al. 1970
). This unfortunate practice excludes the very type of building normally called a bastle (see further
Dixon 1972
) ... the Scottish Royal Commission's useful distinction between 'bastle-houses' (large houses)
[He uses the example of Doddington and Hebburn for this type of building.]
and 'pelehouse' (small and rough houses, now often called 'bastles').
Thus Dixon (and it has to be said a number of other authors like Peter Ryder) seems to put under the one term 'towerhouse' that which other authors consider as two relatively distinct sets of buildings; Tower Houses and Pele Towers, but he also point out that the term Bastle also refers to two distinct sets of building. As he points out in Shielings and Bastles the term bastle is used exclusively for the smaller 'pelehouse' and later authors have generally followed this precedent rather than that of the Scottish Royal Commission (which itself now does not use the terms 'pelehouse' and 'bastle-house' but does now use the term 'Pele-House' but as a synonym for the English pele-tower), with 'true' bastle-houses being called 'tower-houses' or 'strong houses'. However, most authors (including Ryder) do not differentiate between bastles and consider Dixon's Bastle-houses as belonging to the Bastle class although at the' top' end of the group. Other writers, such as Alastair Maxwell-Irving, further differentiate the smaller buildings between pele-houses sometimes with vaulted floor and with mortared walls and unmortered peles without vaulted floors. When looking at 16th and 17th century sources a reference to a bastile is likely to refer to a gentry status building of the form now usually called 'Tower House'. The term came from France and its use probably relates to the influence of french culture o the Scottish court and gentry. Its use in England was rare until the late 20th century. When looking at modern sources the term bastle will relate to modest status buildings of the form of a chamber over a byre or store which contemporaries probably called a 'stone house' or 'pele-house'.
There is a continuum or spectrum for all these late medieval buildings of the form of residential chambers over a ground floor non-residential space. One way to resolve the difficulties of describing the complexities of this continuum is simply to classify all such buildings under the same name (tower house). For this writer this appears to be a cope out and should be compared to not bothering to identify the colours of the rainbow. Defining medieval social class can also be somewhat tricky, particularly in this border area where family and clan ties exist over and around manorial systems, but may be a bases on which some form of differentiation between buildings in the 'tower house' continuum can be made. There can be some architectural similarities between pele towers built by wealth non-nobles and tower houses built by poorer members of the nobility but generally the difference in social status is clear in the buildings. Similarly the poorest members of the gentry may well have lived in two storey chamber over byre 'pele-houses' although that form of building is most likely to be the residence of reasonably wealthy tenant farmers.
As with the spectrum of light there are issues - Although we are all taught there are seven colours in the spectrum in fact there are infinitely many but just six main groups (Indigo is a really a form of blue - Issac Newton suggested seven because of his spiritual and numerological beliefs and not for rational reasons) and there are colours that fall outside the spectrum (there is no purple in a rainbow). Similarly some buildings fall outside the simple continuum (The gatehouse of Tynemouth Abbey is really an independent tower house over a gateway but will hardly be described as such). However such difficulties should be the source for informed study and understanding and should not be avoided for the sake of ease or the even more odious excuse of 'simplicity' - with the implication that the general public are incapable of understanding complex arguments.
Generally great care needs to be taken when reading anything about the fortified buildings of 16th century Scottish marches. The relatively few authors who take the time to explain the diversity of buildings and try to describe the building forms (i.e. Alastair Maxwell-Irving) can be considered as more reliable but it is most unlikely that any two such authors will use the same terms in precisely the same way.
For writers who do not make clear what the form of building is, and who are assuming the reader knows what they mean, the following seems to be the usual meaning:
For English writers, Tower House is a term used to mean a high (baronial) status manorial building in the form of a tower of three or more storeys. These building did not usually stand alone but had small court of ancillary buildings in a defended court, sometimes called a barmkin. Such buildings would have a crenelated parapet and wall walk at roof level. An example would be Belsay Castle. However writers in Scotland and Ireland, where freestanding (but often with barmkin and ancillary farm buildings) residential multi-storey houses of more modest social status were common, the term is used in a wider sense for all such buildings of any social status.
English writers used, Pele Tower (and its synonym Vicars Pele) as a term for a gentry status building usually square usually of three storeys used by a non noble person, such as, but not exclusively, a vicar or knight, with an attached unfortified hall and often a barmkin and associated buildings. Such building would normal have a crenelated parapet at roof level, sometimes with a balcony or lookout but not usually with a complete wall walk. (i.e. Corbridge Vicars Pele). The term is also used, in England, for some smaller examples of freestanding 'tower houses' of the Scottish type of which a small number exist south of the Border.
Bastle is a term generally now used to mean the rectangular strongly built farmhouses of the Scottish border built in the 16th and 17th centuries by tenant farmers of middling social status and wealth. The term Pele-House is/was a synonym used in Scotland and in this account. These had accommodation on the first floor reached by an external stair or ladder or, in finer examples, an internal stair. The floor is sometimes stone vaulted. Ground floor space was used for livestock and a narrow doorway allows access (although modern cattle would not fit through the small doors). These building originally had steeply pitched roofs of stone tiles or heather thatch. An example is Black Middens. This terminology is now beginning to be used in Scotland although the term 'pele-house' was the usually term for such buildings in Scotland.
Pele (the word on its own) is used, in Scotland, for very modest houses similar to bastles in being two storey, although often square and constructed of dry stone (unmortared or clay bonded masonry) and probably with a roof of heather thatch.
BIBLIOGRAPHY
(This is a bibliography of texts covering the general discussion of the Platt, the Scottish Borders in the 16th century and, particularly, the fortified buildings of borders. Site specific bibliographies are given on site pages)
Primary Sources
Ellis, H., 1829, 'Copy of a manuscript tract addressed to Lord Burghley, illustrative of the Border topography of Scotland, AD 1590, with a platt or map of the Borders taken in the same year' Archaeologia Vol. 22 pp. 161-71 (online copy)
Masson, D. (ed), 1884, The Register of the Privy Council of Scotland (edited and abridged) 1st series
Sanderson, R.P. (ed), 1891, Survey of the Debateable and Border Lands Adjoining the Realm of Scotland and Belonging to the Crown of England, Taken A.D. 1604 (Alnwick)
Bain, J., 1894, Calendar of Letters and Papers relating to the Borders of England and Scotland (Edinburgh: HMSO) Vol. 1 1560-1594 (online copy)
Bain, J., 1896, Calendar of Letters and Papers relating to the Borders of England and Scotland (Edinburgh: HMSO) Vol. 2 1595-1603 (online copy)
Boyd, Wm (ed), 1903, Calendar of State Papers relating to Scotland and Mary, Queen of Scots (London: HMSO) Vol. 3 (online copy)
Secondary Sources
Armstrong, R.B., 1883, The History of Liddesdale, Eskdale, Ewesdale, Wauchopedale and the Debateable Land (Edinburgh)
Dixon, Philip, 1972, 'Shielings and Bastles: A reconsideration of some problems' Archaeologia Aeliana Vol. 1 pp. 249-58
Dixon, Philip, 1979, 'Towerhouses, Pelehouses and Border Society' Archaeological Journal Vol. 136 pp. 240-252
Dixon, Philip, 1993, 'Mota, Aula et Turris: the manor house of the Anglo-Scottish Border' in G. Meirion Jones, Seigneurial Buildings in England and France pp. 22-48
Dixon, Philip, 2013, 'Border Towers: A Cartographic Approach' in Jeremy Ashbee and Julian Luxford (eds), Newcastle and Northumberland Roman and Medieval Architecture and Art (British Archaeological Association Conference Transactions XXXVI)
Hyslop, J. and Hyslop, R., 1912, Langholm as it was: a history of Langholm and Eskdale from the earliest times p. 320- (online copy)
Jones, C.P., 1969, 'King James I and the Western Border' Transactions of the Cumberland and Westmorland Antiquarian and Archaeological Society Vol. 69 pp. 129-51 (online copy)
Macdonald Fraser, George, 1971, The Steel Bonnets (London: Barrie and Jenkins)
Maxwell-Irving, Alastair, 2000, The Border Towers of Scotland: Their History and Architecture The West March
Maxwell-Irving, Alastair, 2011-12, 'How Many Tower-houses were there in the Scottish Borders? A few observations' The Castle Studies Group Journal No. 25 pp. 224-240 (online copy)
Maxwell-Irving, Alastair, 2014, The Border Towers of Scotland: Their Evolution and Architecture
Perriam, Denis R. and Robinson, John, 1998, The Medieval Fortified Buildings of Cumbria (Cumberland and Westmorland Antiquarian and Archaeological Society)
Ramm, H.G., McDowell, R.W. and Mercer, Eric, 1970, Shielings and Bastles (HMSO)
Online Sources
Aglionby's Borders of Scotland, 1590 (British Library, Royal ms 18.d.III, fol 76)
This uncoloured, ink on parchment, scale map (10 miles = 3 3/4 inch) was made by or for Edward Aglionby, for Lord Burghley in December 1590, and was kept by the latter in an atlas largely made up of proof copies of Saxton's county maps. It bears the title 'A platt of the opposete borders of Scotland to the west marches of England'. Cardinal points are given and north is at the top. Rivers are shown in some detail, and topography suggested by 'sugar-loaf' hills. The emphasis is on towns and castles on the Scottish side of the borders. Burghley has added a few extra place-names in his own hand, such as
Kirkander
(Kirkandrews Tower, Netherby). On the English side, the relatively few places named stretch from Bewcastell in the north to
Bolness
,
Cardronock
,
Skinburnness
and the
Chapel of the Grune
.
An image of the map can be found in the British Library Online Gallery
http://www.bl.uk/onlinegallery/onlineex/unvbrit/a/001roy000018d03u00076000.html
The map is reproduced and discussed in Henry Ellis, 'Copy of a Manuscript Tract addressed to Lord Burghley...',
Archaeologia
, Jan 1829 p. 162
See also R A Skelton & John Summerson,
A Description of the Maps and Architectural Drawings in the Collection made by William Cecil, First Baron Burghley now at Hatfield House
, Oxford, Roxburghe Club (1971), p. 60
(
Cumbria County History
http://www.cumbriacountyhistory.org.uk/sites/default/files/Early%20Large-Scale%20Maps%20from%20Cumbria.pdf
Accessed 2 Sept 2015)
A Platt of the opposete Borders of Scotland to ye west marches of England
This is a map of the opposite borders of Scotland and England. It is from an atlas that belonged to William Cecil Lord Burghley, Elizabeth I's Secretary of State. Burghley used this atlas to illustrate domestic matters. This map is interesting because it shows the debatable lands, these were lands between the borders of Scotland and England, claimed by neither and subsequently a lawless no-man's land. Lord Burghley has annotated the map, adding place names at points along the river which forms part of the border, and the river immediately to the right of this which lies on English soil. The title, "A Platt of the opposete Borders of Scotland to ye west marches of England" appears on the reverse with the date: "Dec. 1590". There is a description on the map itself which ends: "for those on the English coast they ar referred to the tract latly sent to your L. of the description of them in particular".
A scale bar of 4" - 10 [miles] is included.
(
The British Library Online Gallery
http://www.bl.uk/onlinegallery/onlineex/unvbrit/a/001roy000018d03u00076000.html#notes
Accessed 21 Sept 2015)
APPENDICES
This page last edited on 5 February 2016.
---
¤¤¤¤¤