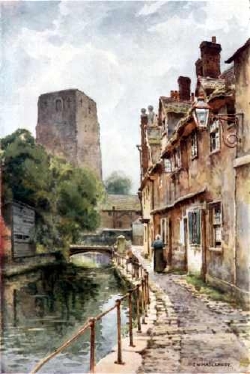 This is a rather limited help page for the site. The site is not really designed for those new to castle studies. See the links page for sites with introductory essays, glossaries and other such helpful resources.
If you are looking to find the castle described as a military stronghold, surrounded by trebuchets and besieging armoured knights and protected by vats of boiling oil, or as a fantasy palace with damsels in wimples, hidden passages and swinging candelabrum or other such 'hollywood' portrayals this is not the site for you. The complex story of real castles is far more rewarding than this but also rather more challenging.
The essay Defining 'the Castle' is not an introduction to castles but a discussion of how castles studies is redefining the castle as a complex social institution rather than a form of building. It is hoped this will inspire thought but it does require a reasonable knowledge base to be properly appreciated.
Descriptions
The description statement on individual site pages is not intended to be a complete or full description of a sites historical, archaeological and/or architectural account. It is merely intended to give a general idea so that someone may see if a site is likely to be relevant for their research needs. The description is always derived for one or more published account, such as a scheduled monument report, a listed building description or an archaeological database. These descriptions are never the result of fieldwork by the compiler of Gatehouse. These description should be attributed and the source will be given below. However, on occossions, comments on these descriptions will be made. Unattributed comments are those of Philip Davis.
Dates
Generally Gatehouse has usually used the abbreviation C11 for eleventh century etc, this was to save bit space from the early days of this website when such concerns mattered. Occasionally some dates are given as c. 1100, meaning about or around 1100. For century the C is always in upper case and for circa the c. is in lower case. Gatehouse generally avoids using AD or CE and all dates, unless otherwise specified, are common era dates. However, much of the site consists of material from a large variety of sources and numerous other abbreviations forms are used.
As the information in this site is collected from a variety of sources the use of the term 'medieval' is not consistent. For some authors this term refers to the period from the withdrawal of Roman forces until about 1500, for others this period is two (or more) distinct periods with the 'medieval' period starting about the time of the Norman Conquest. This leads to problem where the description "early medieval" is used as for some this means C5-C10 whilst for others it means C11-C12. Care should be taken in such circumstances. In practice the sites in this website cover a period from the Norman Conquest of 1066 to the end of the reign of Elizabeth I in 1603, with some slight spread beyond these dates.
Bibliographical References
Bibliographical references are in the Harvard format. The form is author surname, forename (usually just as initials), date, 'article or chapter title' book title or journal name (place of publication: publisher) Vol. # p. #. The abbreviation Vol. for volume. The abbreviation p. is used for page and pages; pp. for pages is generally not used as this is felt unnecessary – 'ff' for following is not used; instead the form p. #- (a number followed by a short dash) is used. Part is abbreviated as pt. – However, quite often the reference may be in the form Vol. 2.3 for volume 2 part 3.
Some abbreviations commonly used in Gatehouse
Notes on the term 'fortification'

The term fortification, in regard to medieval buildings, is one open to much discussion. Many of the buildings in this gazetteer, despite much insistence, were never intended to be used in actual warfare but were meant as a symbolic display of the status of the buildings owner. This does not always mean their defensive features, like machicolations, were sham, although some were. Even when a castle is recorded as being besieged this does not mean it was built to resist a siege; as strongly built houses of high status they were likely to be used as retreats during warfare. In the 17th century English Civil Wars many high status domestic houses, with no military features, were besieged, sometimes for weeks. Care must be taking in drawing conclusions as to the function and purpose of complex buildings like castles. A portico of Corinthian columns does not mean Birmingham Town Hall was built as a temple. A parapet of battlements does not mean a house was built as a military base.
Walls, moats and strong gates kept thieves out but there has always been a differentiation between such passive defensive features and the supposed active fortification features which allowed the inhabitants of a 'castle' to fight back against an attacking army.
In this website fortification means a particular type of architectural style derived from military considerations - some of these military consideration were actual, some potential and some symbolic.



Types and names of fortifications
For details of the classification scheme used in this web site click here.


For information on some of the classification systems that are used for medieval fortifications click here.

Confidence and remains
For a more detailed comment on what the confidence and remains statements mean can be found click here.

Location of sites
For some more information on the location of medieval fortifications click here.


This includes comments of map references, county boundary changes and place name evidence.
Site reuse and change
High status sites like manorial centres gain a certain kudos of place and the site itself becomes significant. This often results in sites being reused, often repeatedly. The close association of many castles with parish churches may mean that some and possibly many mottes and ringworks may be highly modified and reused Saxon thegnal burh sites – as has been shown at several excavations, although such evidence is unlikely to be found except with highly destructive intense excavation of a sort rarely carried out. A number of square C13/C14 moated sites may actually be much reworked low mottes recut to the latest style. How many moated manor houses started out as minor timber castles may be impossible to ascertain but some have been identified as such. Jean le Patourel work on Yorkshire moated sites shows the close association between some moated sites and timber castles.
Mounds of earth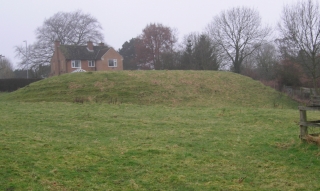 For a discussion on mounds of earth which may, or may not, be castles click here.

Finding books etc.
Advice on finding books and other bibliographical sources can be found here.

Search
In the web site are nearly 6000 individual pages for medieval fortified sites. Unfortunately it is not possibly to directly search for an individual site from within the web site (but the county and site indexes are useful). The site is pretty well indexed by Google and use of the Google search engine in the menu bar should produce full results but see the news section below for latest information as the Google updating of the changes to the site takes some time.
I am not responsible for the advertisements on the Google results page and I gain no revenue from these.
For more complex searches, such as a list of the sites recorded by David Cathcart King in his seminal Castellarium Anglicanum, do download the databases on which this site is based and put them into a database management program or spreadsheet. Gatehouse is intended as a support tool to aid research so please feel free to use it this way.
Browser Compatibility
The latest version of Gatehouse (from November 2010) is designed to comply with the CSS3 standard. This means the site is best viewed in the latest versions of Firefox, Safari, Chrome or Opera. It should work in other browsers although features such as multicolumn text will not appear in Explorer or older versions of other browsers. Please do contact Gatehouse if you find browser incompatibility problems.
Acknowledgements
This project has been much assisted by the help and support of many kind and knowledgeable people.
My thanks to those who have helped.
Disclaimer
While the author of Gatehouse has made every effort to ensure the accuracy of the data held within this web site and the associated downloadable databases, it must be appreciated that much of this is compiled from secondary sources and that the information supplied may not be a full or reliable statement of the archaeological resource. Gatehouse shall not be held liable in respect of any errors or omissions from the listing provided. If you use this site for something important you should check the cited sources and check the sources they have used. Please do inform Gatehouse of any errors you do find.
The site contains much copyright material belonging to third parties used with permission on the bases that this site is not commercial and is provided as an educational resource or under the general principle of 'fair use'. Use of material from this web site for commercial purposes may breach copyright restrictions and result in prosecution. You will need to check all given sources to establish the actual copyright holder.