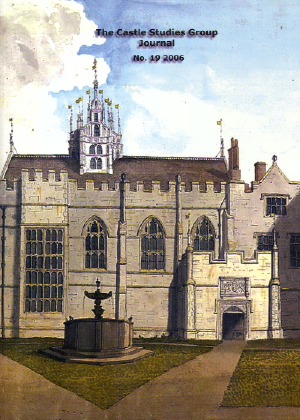 Below is a list of the organisations, with web sites, that publish journals, or regular series of monographs, that have content which may be of interest with regard to the medieval fortifications in England and Wales.
Some, but by no means all, journals have web sites and of these only a few have article indexes. The details of specific journal articles can be found on the relevant individual site pages.
National and International
Doug's Archaeology has a hypertext list of English Language Archaeology Journals.

A sublisting of those journals available online for a payable fee.
A sublisting of journals available as print only2.
His original sublisting of open access journals is now at
Open Access Archaeology has a sublisting of those Journals offering open access
England
The links below are general for sites with indexes of their publications or details of how to obtain publications. Smaller groups without signifcant publications are general omitted;
Regional

Most CBA groups publish newsletters, often twice yearly, and many groups are now making these available online but these are rarely full research articles. A few groups publish journals of academic articles.

County and Local District

The Cambridgeshire and Huntingdonshire Archaeological Society. (This merged with the above in 1952. Its Transactions... (1901-1952) also avaiable via ADS)
Wales
Welsh Journals Online (WJO) provides free access to scholarship from Wales. Currently has Welsh History Review, Brycheiniog, Ceredigon, Montgomeryshire Collections, Flintshire Historical Society Journal, Gower, Minerva, Morgannwg, South Wales Record Society, Radnorshire Society transactions, Pembrokeshire historian, Gwent Local History, Cardiganshire Antiquarian Society transcations, Transactions of the Honourable Society of Cymmrodorion. While it was intended to add further volumes active work on the project seems to had ceased.
County and Local District
The Islands
Archaeological Companies
Commerical companies (many are also charities) providing archaeological services (CBA complete listing of contracting units, trusts and consultancies).
All publish reports for clients which are sometime made more widely available (see grey literature) but some produce wider reports, newsletter and other items of interest.
A small selection are;
The four welsh archaeological trusts have somewhat wider remits, including being holders of the county Historic Environment Records.
University Archaeology Departments
There are many archaeology departments in British universties which sometime put online reports of current projects. These tend to have no longevity being removed every time a university changes it web design (something that tends happens often usually with a complete break of previous links). Internet Archaeology from the University of York, supported by CBA, has a wider remit than the university itself. Sheffield University (uniquely?) published a graduate journal.