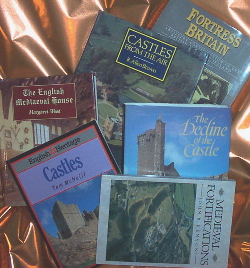 BOOKS AND LINKS
Any site trying to do something like this is going to be very dependent on the work of others. Indeed all the Gatehouse author has really done is read several (hundred) books and looked at several (thousand) web pages and organised them in a fashion which is, it is hoped, helpful.
Each individual castle or other building is given its own full bibliography and web links listing but there are also a considerable number of more general books and links used in the composition of the site and some books and sites that deserve a fuller description. For easy of use the sources are split into a few bibliographies of written sources and a listing of web sites.
Generally excluded are books or sites which don't meet a minimum standard. If a book or web site is mentioned it is worth looking at, negative comments are general those few things that make a source less than perfect, rather than what makes it not worth looking at.

---
¤¤¤¤¤